Add: No.116, KWOK SHUI ROAD, Kwai Chung Industry Center, HongKong
Tel: (0086) 131-6636-9204
Fax: (0086) 400-852-8332
Email: hongkong@ayite.net
Pressure
Your position: Home > Pressure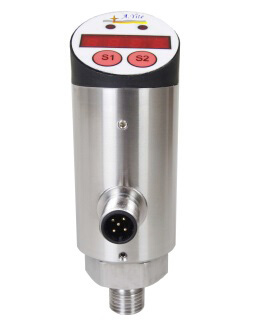 GE-209 Digital LED Display Pressure Sensor
CE certificate
Product description: GE-209 digital LED display pressure transmitter, could output 4-20mA or 0-20mA signal, and PNP NPN or relay switch signal, the engineer could monitor the pressure system at remote area. It could used
Product introduction
Description of Digital Pressure Sensor:
GE-209 digital LED display pressure transmitter, could output 4-20mA or 0-20mA signal, and PNP NPN or relay switch signal, the engineer could monitor the pressure system at remote area. This digital pressure transmitter adopt a ceramic thin film pressure sensor to measuring GE-209 Remote Type Digital LED Display Pressure Sensorpressure, with a better accuracy, integrated LED for pressure display and parameters set.

Application of Digital Pressure Sensor:
liquid and gas, process control, leaking monitoring, hydraulics and pneumatic system, pump control, storage tank monitoring, liquid level control, filter blocking, machinery manufacture

Character of Digital Pressure Sensor:
* Lower price, cheap
* large range: 0-1bar to 0-600bar
* Remote type
* Both switching output and analog output
* LED for pressure and switching state display
* High reliability
* Output to PLC
* M12 plug, easy to assembling/disassembling
Output signal of pressure sensor
Specification of Digital Remote Pressure Sensor:
* Power Supply: 15...30Vdc
* Repeatability: 0.5% of measuring range
* Display: Red 9mm 4 digit LED, Display range: -999...9999
* Temperature effect: less than 0.03%FS/K
* Medium temperature: -20C...80C
* Protection class: IP65
* Process connection: Stainless steel + NBR sealing

Technology Data of Switching output:
* Calibrating range: 0.5%-100% of F.S.
* Accuracy: 0.5% of F.S.
* Number of switch: 1 or 2
* Output function: PNP; NPN; NC/NO programmable
* Rated current: less than 500mA
* Voltage drop: less than 1V
* Response time: less than 10ms

Technology Data of Analog output:
* Output type: 4-20mA 0-20mA analog output.
* Load resistance: less than 500 ohm
* Accuracy: 0.5% of F.S.