Add: No.116, KWOK SHUI ROAD, Kwai Chung Industry Center, HongKong
Tel: (0086) 131-6636-9204
Fax: (0086) 400-852-8332
Email: hongkong@ayite.net
Pressure
Your position: Home > Pressure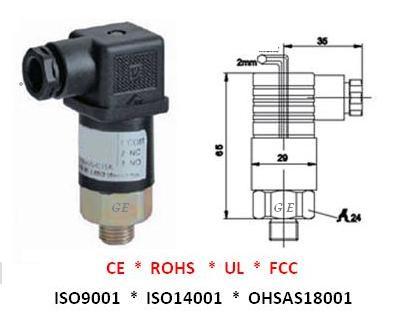 GE-208 Adjustable Pressure Switches
Pressure setpoint is adjustable
Substance could be air water oil
Compact structure, used for the most diverse requirements.
CE certificate
Product description: GE-208 adjustable pressure switch is a mechanical controller, the working principle and structure of this adjustable pressure switch is built-in piston connected with precision springs
Product introduction
When pressure changes, the corresponding changes in the spring scale, This adjustable pressure controller could trigger preset mechanical structure and signal switch. for the pressure switch, we have diaphragm and piston type. The preset pressure regulation is adjusted by the regulation dowel situated inside the instrument that can be intercepted with a 2mm hexagonal key. Gold-plated contacts will make sure the switch have a long lifetime.


The Character
* Pressure setpoint is adjustable
* Substance could be air water oil
* Micro switch have UL CE CSA certification
* 0.2bar ~ 400bar, big widely measure range
* Compact structure, used for the most diverse requirements.
* DIN connector design , easy to Wiring and open inside to adjust the range .
* High overload pressure, High repeatedly
* Gold-plated and large capacity NC/ NO contact .
* NC/NO or changeover contact for gauge pressure .
The Specification:
* Pressure Range: 0.2-2.5bar; 0.8-5.0bar; 1-12bar;
5-50bar; 10-100bar; 20-200bar; 50-400bar; other range could be customized ODM
* Switch: SPDT more than 10 million times
* Voltage: 250V max
* Current: 3A Max
* Connect Size: G1/8"; G1/4"; M10x1; NPT1/8"; NPT1/4"; M12x1.5
* Material: Stainless Steel
* Work Temperature: -20C ~ 90C
* Error: 3% FS
* Protect Grade: IP65
* OEM ODM Custom-made is welcome