Add: No.116, KWOK SHUI ROAD, Kwai Chung Industry Center, HongKong
Tel: (0086) 131-6636-9204
Fax: (0086) 400-852-8332
Email: hongkong@ayite.net
Pressure
Your position: Home > Pressure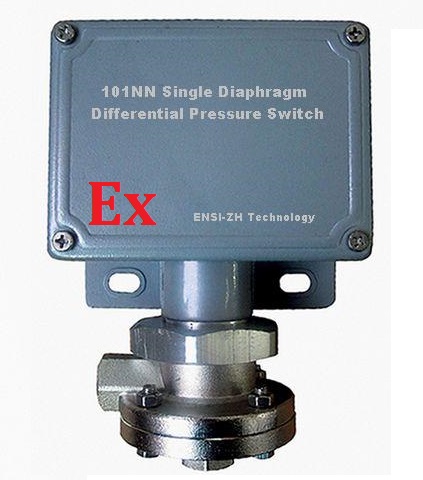 101NN PTFE Diaphragm Differential Pressure Switch
Adjustable Differential Pressure
CE certificate
Product description: 101NN differential pressure switches are suited for low-to-high differential pressure, fluid power or process applications where high and varying static pressures, high overrange, proof, shock pressu
Product introduction
101NN differential
pressure switch
es are suited for low-to-high
differential pressure
, fluid power or process applications where high and varying static pressures, high overrange, proof, shock pressure or cycle rates are expected. Explosion proof differential
pressure switches
is available. It could work at the oil system for differential pressure control. CE certificate.
Specification:
* Pipe Connection: Female BSP1/4"( NPT1/4" in option)
* Setpoint Adjustable Range:
101NN55: 3Psi~36Psi;
* Max Break Pressure: 500Psi
* Switch: SPDT NO & NC
* Switch Capacity: Max AC 480V 20A; DC250V 5A.
* Work Accuracy: 1:1000 m2/s
* Repeatability Error: less than 0.5%
* Work Temperature: -20C~100C
* Media Temperature: 0~120C
* Resistance to shock: 40m/s
* Enclosure Rating: IP66
101NN single diaphragm differential pressure switches are built rugged for low-to-high differential pressure, fluid power or process applications where high and varying static pressures, high overrange, proof, shock pressure or cycle rates are expected.
These, field-mounted instruments feature a flexible modular design that provides cost effective sensing solutions for air, oil, water and non-corrosive process fluid applications. The two-piece piston design allows for complete differential pressure reversal without damage.