Add: No.116, KWOK SHUI ROAD, Kwai Chung Industry Center, HongKong
Tel: (0086) 131-6636-9204
Fax: (0086) 400-852-8332
Email: hongkong@ayite.net
Flow Meter
Your position: Home > Flow Meter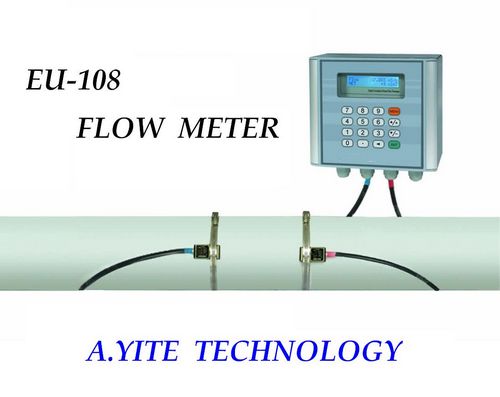 EU-108 Ultrasonic Flow Measurement Meter - Wall Mount
CE certificate
RS-485 Modbus 4-20mA
Ultrasonic Flow Switches
No need break the pipe to install it
Product description: Ultrasonic Flow Meter, Calorie Meter, Wall-Mount flowmeter, Separated body ultrasonic flow measurement meter, RS-485, 4-20mA, Modbus output, it could be ultrasonic flow switches, when install it, no n
Product introduction
Product Description
EU-108 Ultrasonic Flow Meter is a fixed mounted flow meter, the flowmeter is separated with the transducer. Their electronic enclosures are rated as IP65 (NEMA 4X), so this products could be installed for both indoor and outdoor, then there will be no limited for the installed place. It could measure the temperature, work as Calorie Meter too. The Ultrasonic Flowmeter have CE certificate.
it could be ultrasonic Flow Switches, when install it, no need stop the pump instrument, no need break the pipe, just clamp the sensor on the pipe.
Product Feature
The ultrasonic flow meter works with Ultrasonic Technology and Measures by Principle of time difference. There is a pair of ultrasonic vibrator and receiver in the exterior of pipe emitting in two directions and both face to face. The light vibrator will emit ultrasonic signals down stream and reversed stream. Measuring the time difference of the two directions transmission, you will get the flow rate of the fluid; then input the diameter of pipe, you will get the flow.
Product Specification/Models
* Accuracy Normally +/-0.5~1.0% of reading at rates>0.2mps
* Response Time 0-999 seconds, user-configurable
* Pipe Size 1/2" ~ 240" (DN15mm - DN6,000mm)*
* Pipe Material All metals, most plastics, lined pipes
* Units English (U.S.) or metric
* Liquid Types Virtually all liquids and liquids with minor solids (<10,000ppm). Full pipes
* Digital Interface: Relay/OCT/RS-485/4~20mA/ 0~20mA output.
* Power Supply: 220V AC / 24VDC / 85~264VAC