Add: No.116, KWOK SHUI ROAD, Kwai Chung Industry Center, HongKong
Tel: (0086) 131-6636-9204
Fax: (0086) 400-852-8332
Email: hongkong@ayite.net
Flow Switch
Your position: Home > Flow Switch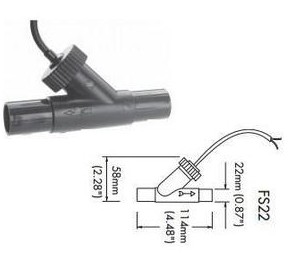 FS22A Flow Float Switches Cynergy3
Sensor, flow; Contacts actuate at 3.75L/min flow
Flow Sensor,SPNO,22mm Pipe,1A,25cm Cable,WRAS Approval
FS15A FLOW SWITCH
FS15LF FLOW SENSOR
Product description: FS22A Flow Float Switches Cynergy3, Sensor, flow; Contacts actuate at 3.75L/min flow; 22mm pipe,Flow Sensor,SPNO,22mm Pipe,1A,25cm Cable,WRAS Approval
Product introduction
Low Cost, Cheap Flow Switch
Float Switches, FS Series
Item# FS22A - Flow Sensor,SPNO,22mm Pipe,1A,25cm Cable,WRAS Approval

Flow Switch
15 VA Switching Power
1 Amp Switching Current
NO Contacts
145 PSI Max. Operating Pressure
The Cynergy3 FS series of Flow Switches are reed switch based devices which are manufactured in acetal resin. These switches are designed for use in liquid flow systems with pressures up to 145 PSI (10 Bar). Advanced design ensures minimal fluid flow restriction.
| | |
| --- | --- |
| Item Number: | FS22A |
| Brand: | Cynergy3 Components |
| Item Category: | Sensors |
| Subcategory: | Float Switches |
| Series: | FS |
| Float Type: | Horizontal/Vertical Float |
| Number of Floats: | 1 |
| Contacts: | SPST-NO |
| Switching Current: | 1 Amps |
| Switching Power (VA): | 15 Volt-Amps |
| Switching Voltage AC: | 240 Volts AC |
| Switching Voltage DC: | 120 Volts DC |
| Mounting: | Cable Suspended |
| Connection Type: | Wire Leads |
| Body Composition: | Acetal Resin |
| Gasket: | Not Supplied |
| Cable Length: | 0.25 Meter |
| PSI Rating: | 145 |
| Temperature Range (F): | 185 Degrees F |
| | |
| H x W x D (in.): | .96 x .96 x 4.47 |
| Net Weight: | 1.92 OZ |
| Gross Weight: | 1.92 OZ |