Add: No.116, KWOK SHUI ROAD, Kwai Chung Industry Center, HongKong
Tel: (0086) 131-6636-9204
Fax: (0086) 400-852-8332
Email: hongkong@ayite.net
Level & Depth
Your position: Home > Level & Depth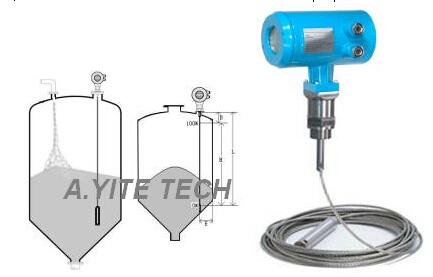 GE-1206 Radar Level Meter | Rice Grain Solid Level Measurement
Rice Grain Solid Level Measurement
CE certificate
ATEX Anti Explosion
Product description: GE-1206 Radar Level Meter, work as Rice Grain Solid Level Measurement, could measure the level range for the grain and rice in the silo, it could measure the solid too.
Product introduction
The GE-1206 Guided wave radar is a gauge based on time stroke principle, the radar wave is running at speed of light, the running time can be converted to material level signal through electric components. The sensor emit high frequency impulse and transmit along the cable, when impulse meets the material surface, it reflects back and is received by receiver inside the gauge, and converts the distance signal to material level signal.
It could measure the level range for the grain and rice in the silo, it could measure the solid too.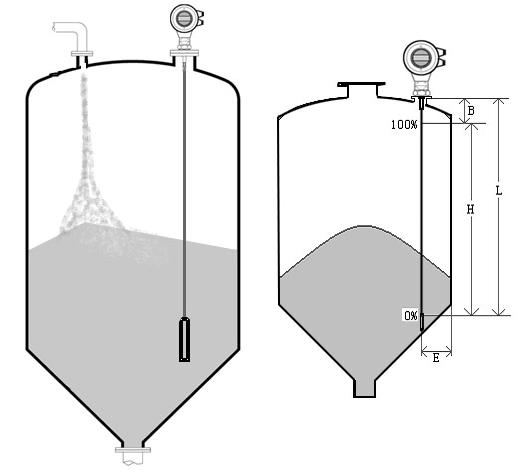 The reflected impulse signal is transmitted along the cable to the circuit of the gauge; the microwave processor processes this signal, and recognizes the wave echo of the microwave impulse from the material surface. The correct wave echo signal is recognized by the intelligent software, the distance from the material surface D is proportional to the time stroke of the impulse T:
D=C×T/2
Among them, C is the velocity of light.
As the distance of the empty tank E is known, so L is:
L=E-D
Specification:
* Application Liquid, solid granules
* Measuring range 30 meters
* Process connection Screw, flange
* Process temperature -40-250℃
* Process pressure -1.0-20bar
* Precision ±1mm
* Frequency range 100MHZ-1.8GHZ
* Anti-explosion/safety
* Grade EXiaIICT6/IP68
* Signal output 4…20mA/HART(two phases)
GE-1206 Smart radar level meter, for its characters of non-touchable measurement, can precious measure the media of pollution and corrosion. Its stable and accurate apparent is also shown in complex measurement. Outputs an analog signal 4~20mA, can be controlled by remote. It is adopted an unique micro-wave technology,Echo-tech process applied for various industrial condition. The pulse working method can measure small dielectric constant media,and safely applied in metal and nonmetal vessels. It is not harmful for human body and environment.