GE-315-WD paddle
Flow Switch
adopt red copper pipe for inlet and outlet, suit the welding copper tube system. The flow setpoint is adjustable for different condition, mainly used in the oil flow system of chiller and refrigeration instrument. This adjustable flow switch could supply pipe size for 15mm 16mm 22mm 28mm 35mm 42mm 54mm 67mm red copper tube.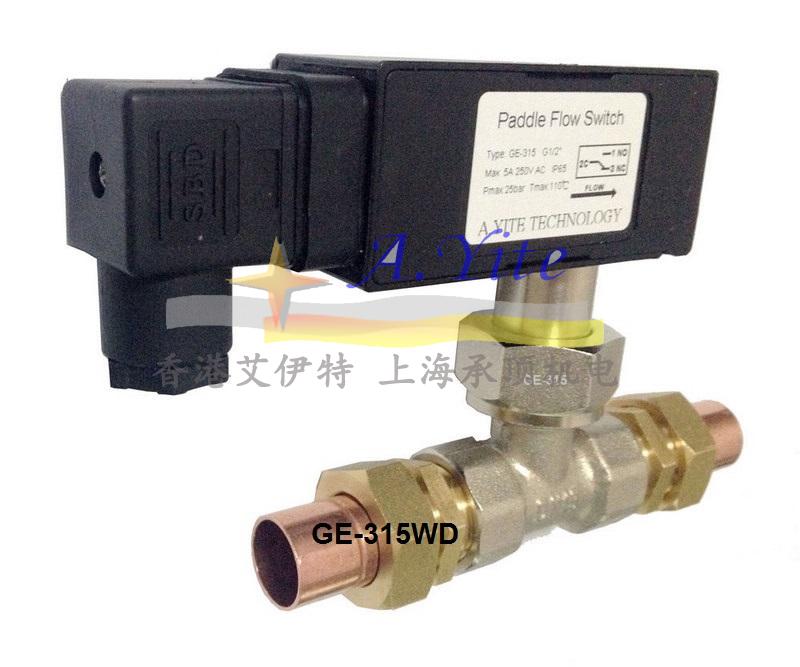 Specification:
* Pipe OD: 15mm 16mm 22mm 28mm 35mm 42mm 54mm 67mm
* Max Loading: 250V 3A max, 125V 5A max
* Output: SPDT Switch
* Tolerance -/+15% of full scale
* Media Temperature -30~110 C
* Average Pressure Loss 0.01bar at Qmax.
* Hysteresis depending on switch value, Minimum 0.7 l/min.
* Metering Substances Oil, Water, Gas, Air (If special substances, please declare)
* Max Pressure 25bar (40bar could be custom-made)
* Protection Grade IP65
* Pipe Connection: Hirschmann DIN or Cable with sealing
* Micro switch: Omron, Made in Japan.